Sponsors of SCT 2022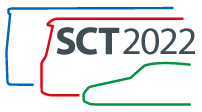 Become a Sponsor or Exhibitor
Platinum Sponsor

SSAB
http://www.ssab.com
The Docol® branded products from SSAB are developed to meet the demands from the automotive industry now and in future. From high-strength low alloy to dual phase as well as complex phase steel, all the way to martensitic grades with extremely high strength, Docol® meets the needs for many different parts in a vehicle.
SSAB is a highly specialized global steel company driven by close relationships with customers. SSAB develops high-strength steels and provides services for better performance and sustainability. The company is a leading producer on the global market for Advanced High-Strength Steels and Quenched & Tempered Steels, strip, plate and tube products, as well as construction solutions. SSAB's steels and services help to make products lighter and increase their strength and lifespan.
SSAB has been at the forefront of sustainability in many ways and now strive to do even more. The plan is to eliminate all their CO2 emissions by 2045.
SSAB has employees in over 50 countries and production facilities in Sweden, Finland and the US.